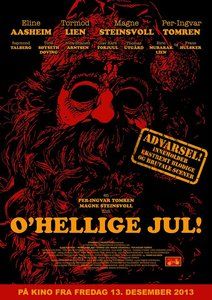 The UKHS Writers Christmas Horrors
O'HELLIGE JUL! A.K.A. CHRISTMAS CRUELTY (2013)
Directors: Per-Ingvar Tomren and Magne Steinvoll
Stars: Eline Aasheim, Tormod Lien, Per-Ingvar Tomren, Magne Steinvoll
UK RELEASE TBC
The film opens on a terrified family, bloody, bound and powerless to resist as a sadistic psychopath (Tormod Lien) has his way with them — even their infant child. Afterwards we are introduced to our 'heroes' — a group of youngsters looking to have a good time: long-suffering Per-Ingvar (Tomren), who is disabled; angry and misogynistic Magne (Steinvoll); and Eline (Aasheim), their feisty but caring friend. The three discuss festive customs, create and don masks to terrify the townsfolk and create their own potent mulled wine.
However, they have become the latest targets of the psychopath we saw earlier. A seemingly respectable family man, his work at the NAV (an agency that handles benefits for the unemployed, homeless and disabled) has led him to Eline and her friends. And now he's plotting to deck their halls with blood…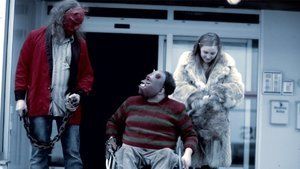 If you're after 'merry and bright', Christmas Cruelty is NOT for you. This is a sick and sadistic Grindhouse flick for those who want horror to horrify.
The plot, written by Janner Iren Holseter, Anita Nyhagen, star Aasheim and stars/directors Steinvoll and Tomren, tells a simple, a linear story that follows a serial rapist and murderer as he plans his next attack and his potential victims. This means we get plenty of characterisation after that explosive opening, before a seriously disturbing final act, which leads to some rather erratic pacing. In fact, if it weren't for the opening scene, it could be mistaken for a slacker comedy.
I enjoyed this mid-movie lull, as it gives us a reason to care about the characters before Serial Santa strikes. It also lulls the audience into a false sense of security, which heightens the horror of the later scenes, but less patient viewers may find this section drags. However, strange as it sounds to say about a film that features gruelling torture and sexual assaults, there's a lot of black humour in the script.
Magner's outbursts lead to some hilariously creative insults, while the interaction between him, Tomren and Aasheim manages to be both witty and natural. There are also bleakly humorous moments with Lien's psycho, including an interaction with a shop clerk that shouldn't be as funny as it is.
However, funny as these moments are, this IS a hard-hitting horror flick, and it gets bloody. The film might have a micro-budget (as evident in the number of hats that each member of the crew donned) but the special effects never disappoint, with buckets of blood and gore on display before the end credits roll.
Which leads to another area in which O'Hellige Jul! excels — for as those credits roll it's accompanied by one of the great tracks on the film's awesome soundtrack. Impressively, actor/director Steinvoll performed most of the music himself. He's a talented guy and his rocky/bluesy songs mixed with a selection of traditional Christmas tunes make this soundtrack reminiscent of a festive Tarantino flick.
Steinvoll, Tomren and Aasheim are all as good in front of the camera as behind it. Each is great, making their characters likeable and believable. I especially liked the charming Aasheim, but the most impressive cast member is the terrifying Lien. He's best known for 2007's Jakob – mannen som elsker Jack Nicholson and Jakob og campinglivets farer, a pair of family films, so his intense work here is a massive departure. The writing of his role is clever, his profession is an excellent piece of social commentary — he's a social worker employed in a benefits department who can be generous benefactor or a destructive ruiner of lives.
Finally, Steinvoll and Tomren are excellent directors, ensuring that the framing of each shot heightens the mood of the scene. The grainy filmstock just adds to the ambience, giving the film a gritty Grindhouse feel.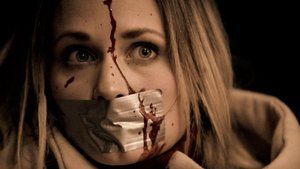 With an extreme level of festive sadism, Christmas Cruelty is no John Lewis ad. Its depravity won't be for everyone, but if you've got the stomach for it, O'Hellige Jul! is a nasty little Christmas gift to genre fans that I thoroughly recommend you unwrap as soon as you can.
8/10