Sinead Beverland's Top 5 Films of 2015
It's been a year of great films, with some weird and wonderful experiences along the way. It always feels like I could have crammed more viewings in to the past twelve months, but time flies and we've only one pair of eyes. So, my top five films from 2015 include a double dose of my favourite horror and documentary, alongside an Oscar nominee.
Curse of the Witching Tree (2015)
Director, James Crow
UK release date: 18th May 2015
This cracker from English writer, producer and director James Crow, was the first film I reviewed for UKHS and what a great start. The witching tree of the title is cursed by a woman accused of murdering her son and subsequently hung as a witch. Flash forward 500 years to present day and a new family move near the tree and unwittingly unleash the demons lurking within. A brilliantly constructed film, with top notch performances; as the tension builds there are some genuinely jumpy moments and the story spins towards a great climax. Entertaining, scary and well produced, as this is Crow's first feature film, it is exciting to imagine what he will bring to the table next.
A Girl Walks Home Alone at Night (2014)
Director, Ana Lily Amirpour
UK release date: 22 May 2015
Another film I reviewed for UKHS, this is a delicious and alluring tale of a female vampire who stalks the dark streets of Iran, discovering a connection with a young man equally lost. Shot in black and white with a fantastic soundtrack to boot, the film teases tension out of every moment and draws you in to its underworld. With a graphic comic feel bubbling under the surface, Director Amirpour delivers what feels like a fresh new vampire tale both in story and look. Definitely add this one to your watch list immediately.
Iris (2014)
Director, Albert Maysles
UK release date: 7th June 2015
As soon as I saw the striking poster image for Iris, I wanted to see the film. All I knew, is that it was a documentary by Albert Maysles who brought us the captivating Grey Gardens. The subject, Iris Apfel is a designer, business woman and 93 year old fashion icon and this intimate film gives an insight in to her unique and fascinating life. It manages to capture the spirit and passion of life, the love and companionship of relationships and the importance of being true to yourself. After meeting Iris on the big screen you'll undoubtedly wish you could meet her in real life too.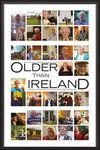 Older than Ireland (2015)
Director, Alex Fegan
UK release date: 25th September 2015
A second documentary slips in to my top five, as it was just too touching and humour filled not to include. Director Fegan interviews 30 of Ireland centenarians about life, love and what it's been like living in Ireland over the previous changing 100 years. As they take over the screen, the interviews are edited together seamlessly to produce a charming documentary that will challenge your expectations of ageing. Such an honest and heart-warming film deserves to be seen by all and trust me when I say, some of these characters will have you in stitches.
Whiplash (2014)
Director, Damien Chazelle
UK release date: 16th January 2015
Coming off the back of Oscar hype, earlier in the year I approached Whiplash tentatively, not wanting to be disappointed. I needn't have worried. The story of Andrew, a student wanting to excel at drumming and become the best of the best is full of ambition, power, anger and passion. Pushed to his very limits by his teacher (a scene chomping J.K Simmons), Andrew (Miles Teller) gives us a character to hate and like in equal measure. This film is an actors dream and for the viewer, an exhausting watch for all the right reasons.
Dud of the year
However, not all films hit the mark and this year, for me, it was a slow-paced western that turned out to be my turkey.
Slow West (2015)
Director, John Maclean
UK release date: 26th June 2015
Perhaps a controversial choice, as this western has been lauded with praise, but when I left the cinema, I left feeling disappointed. The story follows a young Scottish man who follows his heart to America to find his sweetheart. When a mysterious wanderer (Michael Fassbender) offers to assist him, things become dangerous and soon other men are on their trail. The downfall of Slow West for me personally, was mainly due to a lack of belief or interest in the characters and the slow pacing. It meant I felt totally unconnected to the film and, worst of all, I had a flagrant disregard for the fates that might befall the characters themselves. It certainly looked good, but at no point did I feel like I cared. As a whole, it just felt like it was trying too hard and the core story irritated rather than moved.