The Scope of Horror by Christopher Stewart
October is a distant memory as we draw to the end of November but I can't help but think back to the Halloween month, when people discuss what's the best horror films. Numerous top ten lists to decide what to watch on the spookiest night of the year. More lists will be spawning around the web shortly to decide what was the cream of the crop for 2015 as we enter December. This article isn't to discuss that, everyone is entitled to what they thought was the best this year or what are the best horror films ever. Instead I want to turn the focus on the other discussion, the discussion that determines why some of your favourites aren't horror.
In every comment section of every top ten article, the horror fans are up in arms. Why is Shaun of the Dead in that list?! Don't you know it's a comedy! Why is Se7en there!? It's a Thriller. Underworld!?! Are you mental? The lines where horror crosses over into other genre are loose boundaries, areas of contention. It seems that some people are afraid to walk too close to the horizons of horror in fear of falling off the side into some genre oblivion. A nightmare abyss where Rom-Coms lurk.
I've often had to defend the Horror Comedies when it comes to their place on my horror DVD shelf. They are often disqualified due to their inability to generate dread compared to a true horror film. I would say that when it comes to the properties of a horror film, how scared it makes me is not a factor that I care deeply about. If I was to judge my horror film collection based on that sole characteristic, my shelves would be quite bare. It's more about the content the film offers, morbid tales of monsters and murder are how I would determine a horror film.
That personal boundary is challenged by one specific genre cross, the Action Horror. Films like Resident Evil, Underworld, and Van Helsing, don't really fall under my personal scope of what horror is. The reason for that is due to the characters' lack of vulnerability. There's a similar issue when it comes to horror gaming, one example being Condemned 2. While there are a bunch of monsters raising hell, there's also a protagonist with an unnatural level of badassery, equipped with either magic powers, genetically modified superpowers, or a long history of kicking ass and taking names. It's the reason why I wouldn't classify Predator as a horror film, Arnold Schwarzenegger is a powerhouse who can go toe to toe with his monster. In comparison to Simon Pegg in Shaun of the Dead, Arnie has a much tighter grasp on his situation than Pegg does.
The other genre that battles for the classification of horror films is the Thriller. With films such as Se7en, Silence of the Lambs, and Shutter Island, it's often questioned which camp they fall under. The term Thriller is often joked as being "A horror film with a shot at an Oscar" due to The Oscars long time snubbing of the horror genre. I'd usually determine a thriller based on which perspective the film is being seen from, particularly if it is coming from a police investigation angle. The inclusion of an investigation usually moves the film away from a stalk and kill formula and asks questions to the killer's motivation and providing the film with a more intellectual approach. However this usually only accounts for films with a human killer, and yet there is the sub-genre of the Supernatural Thriller which tries to "legitimise" paranormal and monster movies under the Thriller header.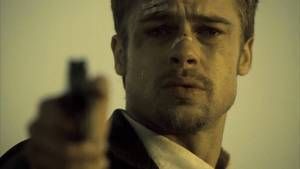 At the end of it all, horror is still subjective. If you want to only recognise the films that scare you, it's going to limit your appreciation of an extensive genre. A genre that takes the old folk tales of vampires and werewolves, and splices it with modern life either as side-splitting comedies like What We Do In The Shadows, or as gun-toting leather-fetish showcases like Underworld. The more film makers get weird and wild with the boundaries of horror, the more original stories we're getting, for better or worse. You just have to decide if you want to step off into that abyss.