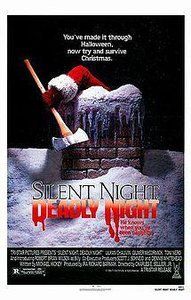 The UKHS Writers Christmas Horrors
'Silent Night, Deadly Night' (1984) Review
Director: Charles E. Selier Jnr.
Writers: Paul Caimi, Michael Hickey
Starring: Robert Brian Wilson, Lilyan Chauvin, Gilmer McCormick, Linnea Quigley
Runtime: 79 mins
UK Certificate: 18
"Santa's watching, Santa's creeping,
Now you're nodding, now you're sleeping,
Were you good for Mom and Dad?
Santa knows if you've been bad…"
It's that time of year when most folks (especially us horror hounds) turn to festive viewing, and there's been no shortage over the decades of scream-fests with a Yuletide theme to choose from – and one could do worse than selecting this one, going way back to 1984.
'Silent Night, Deadly Night' tells the story of young Billy, who as a boy, already scared of the notion of a jolly old cove creeping into your house every December 24th armed with supernatural knowledge of your tiniest of moral misdemeanours, tragically and traumatically witnesses his parents being murdered by a criminal dressed in the garb of that very same fellow, old Saint Nick.
In the aftermath, Billy and baby brother Ricky are sent to a Catholic orphanage and raised under the watchful eye of the cruel and judgmental Mother Superior (played chillingly by stalwart French actress Lilyan Chauvin) and the compassionate, more progressively-minded Sister Margaret (Gilmer McCormick). Understandably, Billy is left so damaged by the events he witnessed that fateful Christmas Eve that he has a dreadful fear of the bloke in the red suit – and Mother Superior's draconian attitudes regarding virtue and sin (and enthusiasm for punishment) have not been at all helpful to him psychologically…
'Silent Night, Deadly Night' in many ways is your basic, by-the-numbers traditional 80's slasher – there's a killer on the loose, more and more unfortunates are succumbing to his / her foul deeds, knockers burst out all over the show (I really had no idea it was common practice for all women in the state of Utah to go bra-less in the dead of Winter!), but perhaps what elevates it a little above a flat-line cheap-thrills watermark is that rather than follow the 'Scooby-Doo' route of 'who's the maniac?', we know from the start who's undertaking the killings and have the full case history as to why he's wound up the way he has.
We don't exactly see the events through his eyes as such, but we're walking alongside him throughout his spree and whilst we may not approve of Billy's actions, I think the viewer sympathises with the terrible childhood he's endured and the film suggests to us in bittersweet fashion, during the montage of him settling into his work as a toy store clerk, that he may have turned out okay in the end, if only it were possible to escape the spectre of Santa Claus in modern USA. Robert Brian Wilson also plays Billy in a simple, charming manner and puts me in mind of a less-calculating Dexter.
Make no mistake however, it's still very much a thrills and spills affair overall and as I say is full of 1980s horror staples such as imaginative killing methods (some with a festive twist, of course!), a sequel set-up – why not indeed? – which manages to feel un-forced, and the wonderful Linnea Quigley not wearing a lot. All this and more pushes it to the exploitation end of the scale – it has a storyline which basically sensationalises mass murder brought on by severe childhood trauma and physical abuse by nuns after all – and it's none the worse for that (plus I'm always sold on anything featuring an appearance by Linnea!).
To sum up, 'Silent Night, Deadly Night' is a slasher classic featuring exploitation undertones, with an antagonist who, while not quite likeable, is certainly sympathetic. Treat yourself to a throwback thrill this December and get hold of this old gem to warm your horror-hungry cockles!
"Naughty!"
7/10