SECONDS (1966, USA)
Dir- John Frankenheimer
Starring- Rock Hudson, Salome Jens, John Randolph
Out now from Eureka/Masters Of Cinema
Finally getting it's first home entertainment release in dual format Blu-Ray and DVD thanks to Eureka on their Masters of Cinema label, who have provided a fantastic transfer of Frankenheimer's underrated masterpiece. Unlike his most well known films such as BIRDMAN OF ALCATRAZ and the brilliant MANCHURIAN CANDIDATE, SECONDS is one of the entry's into his filmography that didn't really get the recognition it deserved. In fact when the film was released in Europe, critical reaction to it was hostile to the point where Frankenheimer refused to leave Monte Carlo, where he was shooting his next feature GRAND PRIX. It also was a box office flop despite having the presence of already established Hollywood heart throb Rock Hudson, though this might be down to the films dark subject matter, its downbeat tone and in tackling uncomfortable questions on whether your current life which seems unfulfilled and pretty much non-existent could change into a brand new life.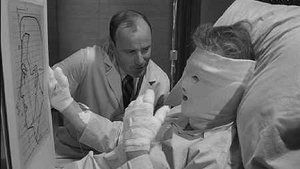 The film begins with a brilliant distorted nightmarish credit sequence created by the genius of Saul Bass, eventually dissolving into a train station full of commuters. One of these is Arthur Hamilton (Randolph) a middle aged banking executive who is given a written note by a stranger amongst the crowded train station. This message leads Hamilton to a shadowy company called "The Company" who offer a specifically special service. Hamilton eventually pays a visit to the company and they offer him the ultimate makeover to fake his death and be re-born in a life of his own choosing. He becomes the handsome artist Anthony Wilson (Hudson), lives in a Malibu beachhouse with a man servant and soon starts to settle into his new self striking up a romantic relationship with a free spirited women who lives in a neighbouring beach house, Nora Marcus (Jens), who has also left her previous existence behind but without the aid of changing her appearance. Soon he starts to become entranced by the lifestyle he leads going to a hippy retreat where partakes in a ritualisitc wine making session and then starts to hold cocktail party's at his retreat. It's not long after one party that he starts to feel depressed and unfulfilled with his new identity and feel that it is just as false as his previous life and wants to restart again. But that's entirely up to "the company" who don't seem to be willing to offer another exchange in identity.
SECONDS is an unnerving and dark film that is ahead of its time. Many could see the picture as a parable of changing identity's especially in a decade of progressive change such as the 60's, where old society was being challenged by the new. Though deep down it does not have the progressive or free wheeling attitude of the 60's as it's a far bleaker portrait of the need to change ones life, that life as it stands, the one you are born with is not as fulfilling as believed and that placing ourselves in these roles restrict us and if offered the chance to change everything and be re-born we would take it, even if it meant destroying your old life and cutting off connections with those that you love. Though the dark question in SECONDS is that even in a new life, will you be fulfilled and will it be worth the change. One of the best scenes in the film comes about when Wilson/Hamilton goes back to see his wife whom he was married to in his previous life, pretending to be an acquaintance who met her now supposedly dead husband previously and who talked about art with him.
Hamilton's wife goes into a brilliant speech about how her husband seemed almost disconnected and almost ghost like, when coming back from work, living in the house in silent co-existence and that they became almost friends rather than a loving married couple. It's in this scene that Hudson brilliantly conveys the realisation that he has turned his back on something that he didn't like only to go further into another life that he now comes to realise is just as unfulfilled. Hudson is brilliant in the role of Wilson and far exceeds the matinee idol/heartthrob moniker he had been labelled with showing that he can take on a more dimensional character. The scene where he gets steadily drunk during a cocktail party is one of both convincing cringeworthy moments broken by mood changing attitudes that can only be brought on by too much booze, which is all the more convincing when it's known that Hudson actually got drunk for this particular scene. Credit should also go to cinematographer James Wong Howe's brilliant visual style which is far ahead of its time, using stedicam style shots attached to the actors that have become prevalent in contemporary cinema (Darren Aronofsky employed a similar device in REQUIEM FOR A DREAM and PI) and fish eyed lens shots that add to the ever increasing nightmare unfolding before us.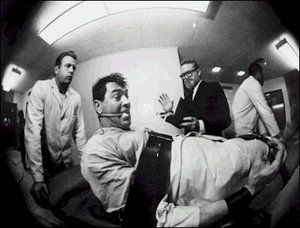 Certainly Frankenheimer's previous films should be rightly hailed as the masterpieces they deserve to be. However, with SECONDS a film that is slowly gaining the recognition it deserves, we see here a fantastic piece of work from a director who was in his prime aided by a superb performance from an actor who seemed to be clearly in the mood to tackle something more complex. Brilliantly bleak, beautifully and terrifyingly visual, SECONDS is a masterpiece and an underrated one at that, which is highly recommended to those willing to watch an undiscovered gem that deserves a place in any genre fan or cinema fans film collection.
10/10