Christmas Special: The Sara Dickson Interview by Dean Sills
UKHS – Hi Sara, welcome to UKHS. How did you get into acting and what is it about the horror genre that you enjoy so much?
SD – I started performing when I was still in primary school, getting a part in my schools' Christmas play and after that I was hooked! After years of taking part in youth amateur dramatic groups, where I found my love of singing alongside acting, I began studying performing arts at college and later graduating from a degree in Drama at university. I've always been involved in performance some way or another, from performing in local theatre productions, singing groups or, what I really love being involved in, the independent horror scene. Being involved in the horror genre gives me more creative control than other forms of performance because it can be anything you want it to be.
There's less rules to follow, you really can go over the top and it still makes great films. The flexibility between real and surreal lends itself to making sure that you can be as creative as possible. Another point I enjoy about working in the horror genre is the willingness of horror directors to portray strong female leads rather than women playing supporting roles to men, or just stripping off and being something to be ogled, which is what I find tiring about mainstream cinema. In horror women really can have the opportunities to step up and take charge.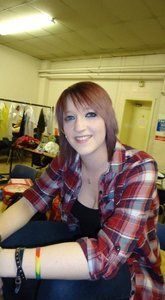 UKHS – I really enjoyed your performance in 'Steve'. Lee Bibby did a superb job directing this comedy short about a zombie called Steve. The first time you saw the film what was your immediate reaction and do you have a favourite scene?
SD – My first reaction to 'Steve' was honestly, to blush! I really can't stand watching myself on screen! But in all seriousness, when I first saw 'Steve' I thought the film was fantastic. The fact that it took such a short time from conception to completion made it seem all the more rewarding, as the whole film was shot in one day and still looked exactly the way we wanted it to. It was such a simple idea but the genius of it was in the fact it was so simple.
It didn't need any elaborate story or huge Special FX it is what it is – something quick, funny and really effective. Everyone involved worked so hard on it – it's been one of my favourite projects to work on. My favourite scene has to be the final shot of the two characters drinking tea! We had finished the rest of the film but weren't too sure how it should end, so we were all just messing around and joking, making random shots and one of the takes ended up being the final scene.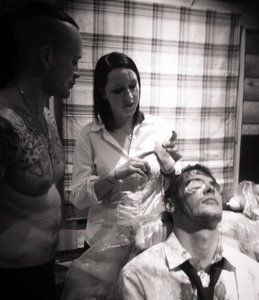 UKHS – Can you tell us a little about some of your other work as an actress and which projects have you enjoyed working on the most?
SD – As an actress I've worked with so many talented people in different ways – be it in theatre or film. It's the opportunity to work with so many different people, that's what makes each project enjoyable. I am incredibly lucky that I've had the opportunity to work with such fantastic people – Antoni McVay, Lee Bibby, Ian Lawlor, Peter Kane, Lawrence Neale, Simon Craig, Graeme Donaldson – having the opportunity to work with such a diverse group of people means that there's always a collaborative effort, everyone has input to make the production even better. Working with Lee and Ian on 'Summer's Night' was probably the most enjoyable time I've had filming. They both had a clear idea of what they wanted from the film and worked really well as a team.
Something I found enjoyable was in their ability to give all of the actor's direction and guidance as well as letting us develop the character's ourselves. The main production days of 'Summer's Night' were possibly the toughest I've ever had. We had such a tight timescale for the location we were using for the bulk of the film, but I also don't think I've had as much fun on set as we did then. Everyone managed to keep motivated and have a laugh while doing it – which is just what you need after filming in a corset and heels for 10 hours!!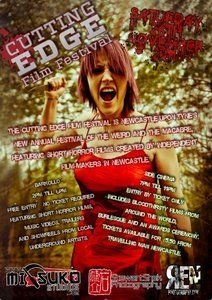 UKHS – You have worked with the directors Antoni McVay and Lee Bibby a number of times, both of them are awesome guys and fab directors. Do you feel they bring out the best in you as an actress and how much of your own ideas do you bring to each character you have played?
SD – Antoni and Lee have been involved in one way or another with every project I've worked on and over the years we've been able to build up such a good working relationship. The differences between them are what makes them such a good team to work with. Antoni really lets his actors take control over the character and do what they feel comes natural. Lee's technical knowledge and skills means he plans out every scene – every shot even – in the finest detail and works with you to get you to see the same things he does.
The guys are great at letting the actors have their own input into how, not only the way in which the characters develop but the overall film as well and when it's finished it's a great sense of achievement for everyone. Working with the pair of them, has been some of the best shooting days I've had, as they work together as such a fantastic team.
UKHS – You have worked on a number of films as a make-up artist including 'Blaze of Gory'. Leading up to a shoot, how much preparation do you do as a make-up artist and which film have you enjoyed working on the most ?
SD – When I'm taken on board as a Special FX Make Up Artist, I always start off with a discussion with the director to get an understanding of what it is they are looking for – is it gory? Is it more subtle or is it completely off the chart surreal – it all depends on what the aesthetic for the film will be. From there it's a matter of going over the script and working on what make up is needed. That's when I get to have fun! I disappear off into my studio and start crafting props and prosthetics and (usually the case if I'm working on one of Antoni's scripts!) making as much blood as I can. It takes a lot of research, as it's not something I've studied professionally, rather I've taught myself but that just makes it more fun. I get to be inventive and come up with my own ideas.
One thing I have definitely realised is the simplest idea is more often the best. The creative process is really rewarding, trying to figure out the most realistic way to slit someone's throat or (probably the most gruesome effect I've done) ripping a man's "member" off! Working on Special FX leads to some interesting conversations! The most enjoyable project I've worked on is really hard to say, as each film is different and needs different FX, so each one is always challenging. Out of all the FX work I have done, 'Nightmares' – the first film I worked on with Antoni – was a big project with a lot of people, brilliant fun and well worth the long day!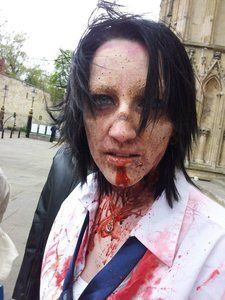 UKHS – If you could have Christmas dinner with three guests (living or dead), who would you choose and why?
SD – As sentimental as this is going to sound I would really love to have three of my grandparents there as they have sadly passed away. This will be the first Christmas in four years that I'm not working which means I am able to visit my family. It would be brilliant to see all the old folk sitting at the end of the table getting drunk and causing mischief!
UKHS – Finally, what do you want for Christmas this year?
SD – I am really terrible at this! My partner has been asking me for months what I want and I just can't answer her! Whenever someone asks me I draw a complete blank – however if anyone wants to buy me 1967 Mustang I wouldn't turn it down!
UKHS – Thank you for your time,Sara. Have a wonderful Christmas and all the best for 2016.
IMDB Link – http://www.imdb.com/name/nm4490489/?ref_=fn_al_nm_1