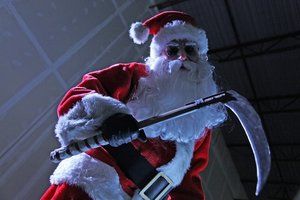 The UKHS Writers 2015 Christmas Horrors
Well it is the time of the year when Santa's sack is bulging and the nights are drawing in . So the UK Horror Scene writers are settling down in the dark evenings and watching some festive horror treats and reporting back with their thoughts.
What will they watch ? And will you agree with their thoughts?
You never know it may give you an idea or two for your own Christmas horror viewing.
It is amazing just how many Christmas themed horror films there are , from Silent Night, Deadly Night to this years hit A Christmas Horror Story. I am sure there will be old and new, mainstream and obscure.
So keep dropping by through December and enjoy the UKHS writers Festive Horrors! And Enjoy our work – Naughty or Nice !!