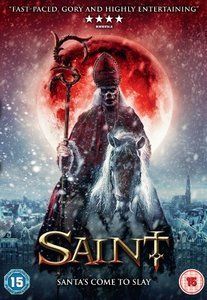 The UKHS Writers Christmas Horrors
Sint aka Saint (2010)
Writer & Director: Dick Maas
Starring: Egbert Jan Weeber, Bert Luppes, Huub Stapel
Studio: Tom De Mol
Runtime: 85 Minutes
In 1492 a ship lands on the shores of Amsterdam, aboard is a renegade Bishop named Nicklaus. Along with his men they terrorise the local village, stealing and murdering as they go, but the villagers decide to retaliate. The villagers creep onto the beach and set fire to the ship, burning alive Nicklaus and all of his men.
We cut to a farm in 1968. It's the 5th of December and the children in the house are celebrating the eve of St Nicholas and the eldest child, Goert, is sent to check on the livestock. Whilst outside he notices something on the roof, it is a bishop atop a grey horse. Inside the house all of Goert's family have been murdered.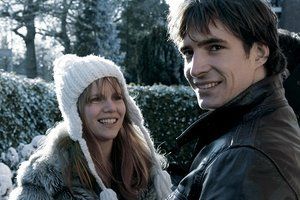 We discover that the vengeful spirit of St Nicklaus returns when the full moon appears on December the 5th, which brings us to the present day. Goert, now a police detective has gone on the offensive, preparing himself for what he knows is coming, he is joined by Frank. Frank is the audience character, he's a sad state of affairs, his girlfriend publicly dumps him and then is promptly killed by Nicklaus. Frank is a prime suspect in a murder case and the only one who believes him is Goert. This sets the scene for a chase across the Amsterdam rooftops and plenty of gore along the way.
Sint is a fantastic movie and there is great fun to be had providing you remember that its tongue is sat comfortably in its cheek. Writer/Director Maas mixes the light and dark extremely well, giving us enough to jump at but equally enough to giggle at. His visuals are akin to splash pages in a comic book and I sat thinking, on many occasion, 'that looks so sweet!' The kills are happily up close and in your face, practical effects are the order of the day for the majority of the special effects, even when CGI is used it is to good effect, a good example of this would be Nicklaus riding his horse across the rooftops. No one is safe in this movie, adults and children alike fall victim to Nicklaus and his army of burned minions.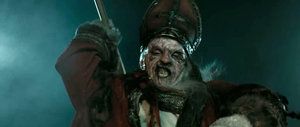 Maas knows the genre well and I felt that he was referencing John Carpenter on a few occasions. Two sequences stood out, one scene on a boat was riffling very much on the classic Carpenter movie 'The Fog' and very early on three young women were leaving school, walking home and talking about their sex lives before leaving for each other's homes, just like the introduction to Laurie Strode and friends in Halloween. Also, similarly, Maas scores his own work, which here never intrudes and blends in well.
Maas has surrounded himself with a talented cast, both young and old, each bringing believability to their characters, despite the situation. Also praise should go to cinematographer Guido van Gennep for shooting this movie like a fairytale, quite snow fall, deep shadows and lashings of atmosphere.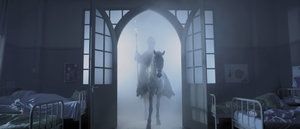 Sint is a wonderful and silly modern fairytale. It delves deep into the rich history of St Nicholas and the Dutch traditions whilst giving us a good giggle along the way. If you like your horrors daft and festive then give it a go. If you enjoyed Dead Snow then you're in familiar territory.
Merry Christmas to all and to all a good fright
8/10