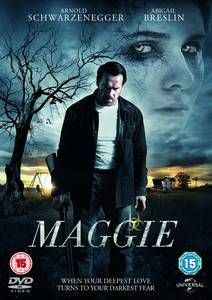 MAGGIE (2015)
Starring Arnold Schwarzenegger, Abigail Breslin, Joely Richardson
Directed by Henry Hobson
Written by John Scott 3
UK DVD Release 23rd November from Universal
A teenage girl in the Midwest becomes infected by an outbreak of a disease that slowly turns the infected into cannibalistic zombies. During her transformation, her loving father stays by her side.
People getting bit by, and gradually turning into, zombies is a staple of the genre. There is not one single zombie outbreak film that does not contain this sequence, and it's usually one of the more emotional and powerful scenes in there. But what if their was a whole film based around this one sequence? Would it be ultra-intense and powerful? Or would it drag itself around like a reanimated corpse..?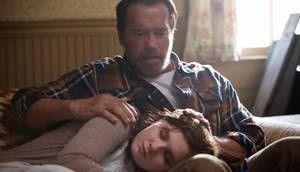 Shot in grey and gloomy tones and almost exclusively handheld, Maggie establishes a quite realistic vision of a zombie outbreak. No mass hysteria, no massacres, just a world odealing with it like they deal with any outbreak: quarantines and paranoia.
Wade (ARNIE!!!) goes to the city to pick up his recently bitten eldest daughter Maggie (Breslin, growing up fast!) and finds her…okay really, other than the scabby bite wound on her arm. He is allowed to take her home, but warned by doctors that sooner or later, she is going to turn, and before that happens, she needs to be quarantined.
But Maggie is a daddy's girl, and Wade is not going to give up on his hopeless dream of a normal existence for her. He takes her home to his rural homestead, where he and Maggie must deal with angry mob police, heartbroken townsfolk and a struggling Caroline (Richardson), Maggie's mother. All the while, Maggie is beginning to rot, and the inevitable is getting nearer and nearer. Sooner or later, Wade must make a choice. Stick his little girl, or end her suffering.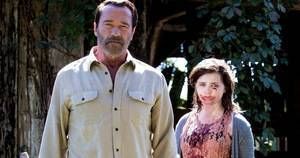 Take the word "zombie" out of there and you have the basic premise of any lifetime tragedy-of-the-week, and that was the main issue with Maggie. The script didn't try and do anything new, it told a story we've seen a fair few times before but under the cynical cover of the zombie genre in order to seem fresh. It only worked for so long.
Another issue with the script was that I felt it started at the wrong point. The film's ending was a foregone conclusion, but would have been so much more powerful if we had a glimpse at this family in happier times. I always think a bit of humour always makes tragedy hit harder, especially in the horror genre (I still cry at the end of Dog Soldiers) but Maggie decides to start on a depressing, somber note, and stick with it until the very end. It's a pretty draining watch all in all and I'd be lying if I said I was entertained. But I don't think this is meant to entertain. It is here to provoke a discussion, ask the moral questions of it's audience. And in that it succeeds.
But Maggie could never be called a bad film and here's why: the performances from the whole cast are extremely authentic and engaging. Breslin completely sells a naive girl who must grow up fast; Richardson convinces as a mother dealing with the impossible situation best she can; but it's Arnie who steals the show here, in a very un-showy turn as a father who finds himself completely out of his depth in a world he no longer recognises. There's a real damaged, sorrowful soul in Arnie's performance here, and it's the best he's ever been. I'm a lifelong Arnie fan, but this is something not seen before from him. He's magnetic in this.
Couple that with some stunning imagery from newbie director Henry Hobson that lends an epic scope to what is a very small, low-key drama, and you have a film that all zombie fans should seek out. There was the potential for a dark body-horror here (imagine what Cronenberg could have done with it) but instead we have a mature, committed, and tight family tragedy. As long as you don't expect any hardcore zombie gore and violence, and are ready for a slower, existential and moody piece, then you will find work to admire here.
7/10