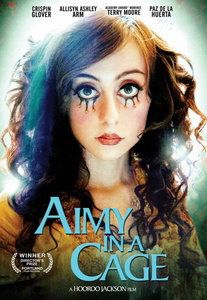 AIMY IN A CAGE (2016)
Written & Directed by Hooroo Jackson
Starring Crispin Glover, Allisyn Ashley Arm, Terry Moore, Paz de la Huerte and Michael William Hunter
UK Release TBC?
"A creative teenage girl is placed into a mind-altering procedure to civilise her, while news of a virus epidemic spreads throughout the world". Via IMDb.
Erm. I…umm…well…
Yeah. So. Erm…
While watching Aimy In A Cage, I tried to make my usual notes ready for the review. But around a minute into this 79 mins of wtf I just gave up and let the insanity soak into my eyeballs and my brain and for the rest of the night I pondered whether or not I just watched the most pretentious bag of bullshit ever made or one of the most singular and courageous masterpieces I've ever seen in my entire life.
But the fact that I can't stop thinking about it makes me lean towards the latter.
Adapted from his own graphic novel "Aimy Micry" by the brilliantly named Hooroo Jackson, this is a film experience like no other.
In trying to describe it to someone who hasn't seen it, I'd say what if Tim Burton and Hunter S. Thompson had a baby, which then wrote a script, which was then directed by Terry Gilliam, but he gave up halfway through and handed it to Darren Aronofsky, who raised Stanley Kubrick from the dead and let him have final cut.
Still with me? No? Then you really need to just watch it.
And more than once as well. While the immediate metaphors for the restriction of artistic expression, the mission to normalise extroverts, insanity treated as a disease that can be cured…I think, anyway, there are probably more themes and subtleties that will go unnoticed on first viewing. Every line feels loaded with subtext, every skewed angle and splintered edit is there for a freakish reason, every scream has a meaning.
Seriously, every second of the short runtime is full of more imagination, thought and uniqueness than any film released in the past few years at least. Never are you not completely engaged. Just try and take your eyes off this animal. Really. Try. You can't.
What becomes clear in this world of insanity is that the more a person tries to be "normal" the more "normal" the "insane" people look.
Throughout the film, Aimy is subjected to increasingly sadistic torture in an effort to make her fit in. You can see her soul being crushed and all of a sudden, the heightened atmosphere becomes very disturbing and upsetting.
Performances here are critic-proof, because everyone is ratcheting it up to 11. But they are all completely committed to the madness, especially our tragic hero played by Allisyn Ashley Arm. Screaming, wild-eyed, a force of nature, she is mesmerising. Crispin Glover appears as a sleazy faux-gangster, and when you can say Glover is one of the less crazy ones in a film…well, you get the picture.
I really don't know what to say anymore about this one. It's just too polarising, too unique. Lacking any typical narrative structure or story, but at the same time completely immersive, it's a total one off.
Visually stunning, with fantastic production design that is full of fascinating details, Aimy In A Cage will either be one of your favourite films ever or the biggest pile of trash you've ever seen.
For me, it's just too memorable to be anything but brilliant.
P.S. SSOOOO many things that I don't have the space to get into: The Apollo Virus, the newscaster, Paz de la Huerta, Nero, The Mosses…this films is bursting with ideas and things and ideas YOU HAVE TO WATCH THIS SO I CAN TALK TO YOU ABOUT IT!!!!
9/10